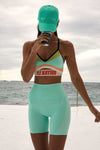 PE Nation Free Play 7" Short Aqua
Shipping calculated at checkout.
The Free Play 7" Short in Aqua comes as part of our Base Colour Collection - supreme basics in block colours to build the foundations of your wardrobe. With a longline fit on the leg and soft EVERYWEAR fabric for all day comfort and squat-proof coverage, the Free Play features micro-rib side panels for an elevated fit in every setting. The perfect short for yoga, Pilates and studio workouts, the Free Play features a folded waistband for comfort on the move. Style it with the Backcheck Sports Bra, Free Play 2.0 LS Rib Tee and Reset Tank.